Anastasia Borzenkova
Institution: RUDN University
Country: Russian Federation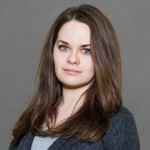 Anastasia Borzenkova is an assistant lecturer in Spanish at the Department of Foreign Language of Philological Faculty at RUDN University. Also, she is responsible for the management of the university's LMS at her department.

Anastasia received her Master's degree with honors from the same university in 2015, but before had received two degrees in Engineering (2012) and Computer programming (2013). Due to the fact that she studied in a Spanish language magnet school she always felt attracted by this language and at long last started teaching Spanish as a second foreign language at a university where she was studying her second degree.

Anastasia tries to apply her knowledges in ICT to her teaching techniques to help her students receive a better studying experience. She is sure that an elegant use of ICT in the classroom always has positive effect on the students' motivation and their results.

Areas of expertise: theoretical grammar, e-learning, Spanish language learning, teaching methods.