Mariella Brunazzi
Institution: IIS P. Sraffa
Address: via Pesadori 16A
Postal Code: 26013
Country: Italy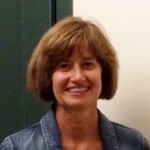 Mariella Brunazzi is a teacher of English Language and Culture in a Technical Institute called "IIS G. Galilei" – Crema – Italy where she has just moved from "IIS P. Sraffa" - Crema, a vocational school.
At IIS P. Sraffa she was coordinator of the Department of Foreign Languages, of the CLIL team, and of European projects.

Mariella graduated in Foreign Languages and Literatures from the University of Bergamo. While studying she started working in a company as a translator and then in 1991 she began engaging in the field of secondary education.

Mariella has gained experience in managing and planning European projects in particular in the areas of education and training. She was contact person in Leonardo-da-Vinci VETPRO projects (Skills to CLIL2, GLO.CLIL, GLO.CLIL2) where IIS P. Sraffa was partner school. She is the author and coordinator of the Erasmus+ KA2 project "Slow down, Move your body, Improve your diet, Learn for life, and Enjoy school time" – S.M.I.L.E.. For each above-mentioned project she organised a final international conference.

Mariella is interested in innovative teaching methods and tools to actively engage students in lessons and increase their participation. In 2010 she took part to a Comenius In-Service Training Course about CLIL methodology. In 2011/12 she attended an online training course on CLIL by Ca' Foscari University in Venice and since then she has been planning and implementing CLIL modules combined with action research activities in cooperation with subject teachers. She currently attends online courses mainly on 21st century teaching strategies offered by the European Schoolnet Academy and the Teacher Academy at the School Education Gateway, as well as eTwinning Learning Events. She also runs eTwinning projects in cooperation with CLIL subject teachers.


Mariella has also been teacher trainer since 2016 and she is a member of the Italian community for mentors of newly appointed teachers within INDUCAS, a pilot project funded by the European Union, which aims at investigating how beginning teachers and mentors can be better supported through a community of peers facing similar issues.

Areas of expertise: Transnational cooperation, project management, school education, teacher training, e-learning, language learning.