Rosario Hernández
Institution: University College Dublin
Address: School of Languages, Cultures and Linguistics
Country: Ireland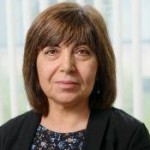 Rosario Hernández is Associate Professor in the School of Languages, Cultures and Linguistics at University College Dublin (UCD).
Rosario completed her PhD in Education focusing on an analysis of the practices adopted in undergraduate Hispanic Studies programmes to assess students' learning.
Rosario has presented her work at international conferences, and published several articles on collaborative learning and assessment. In 2014 she co-edited a book, published by Peter Lang, on Higher Education and Second Language Learning: Promoting Self-Directed Learning in New Technological and Educational Contexts.
Rosario's research interests include second language teaching and learning, assessment of student learning, teaching methodologies, the professional development of teachers and ICT in teaching.
She has been Vice-Principal for Teaching and Learning in the College of Arts and Humanities (2014-17) working on a number of initiatives to enhance the educational experience of students at UCD and to facilitate activities for staff development in teaching, learning and assessment.