Viviana Gaballo
Institution: University of Macerata
Address: Piazza C. Battisti 1
Postal Code: 62100
Country: Italy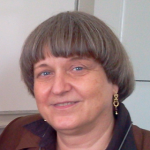 Viviana Gaballo is Assistant Professor at the University of Macerata, Italy. She obtained her MA in Foreign Languages and Literatures from "Ca' Foscari" University in Venice, Italy, specialized in Journalism and Mass Communications at "La Sapienza" University in Rome, Italy, and received post-graduate certificates in "ICT in language teaching" and "ICT in the Humanities" from the University of Florence, Italy, and "Ca' Foscari" University in Venice, Italy. Here she worked as a lecturer teaching and researching on new models and methods for the innovation of teaching and learning practices. She earned a doctoral degree in English Language and Translation from the University of Lecce, Italy, which she joined in 2002 as an assistant professor, while collaborating with the University of Macerata where she moved to in 2008. She teaches English Language and Translation in undergraduate and postgraduate courses, and in PhD programs.

Her research focuses on three main areas: 1) linguistics (Critical Discourse Analysis; Corpus Linguistics; linguistic variation in minor text types; lexicography; CMC – Computer-Mediated Communication; CLIL – Content and Language Integrated Learning), 2) translation (specialized translation, translation competence, collaborative translation, translation pedagogy), and 3) e-learning (the application of new technologies to the teaching and learning of humanities in general, and languages and translation in particular).

Viviana Gaballo has given invited papers and presentations at international conferences in areas of translation studies and the technological and pedagogical interface of e-learning. She is the author of the Systemic-Functional Translation Competence model, which she outlined in her edited volume English in Translation Studies: Methodological Perspectives (2009).

Areas of expertise: Networked learning, e-collaboration, collaborative translation, language learning.