Hanaa Khamis
Institution: Teacher Trainer
Address: 15 Mahmoud Hosny, off Khaled Ibn El Walid, Miami
Postal Code: 21311
Country: Egypt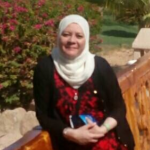 Hanaa Khamis is an ESOL practitioner and teacher trainer. Her training and research interests mainly revolve around instructional technology, pedagogy and assessment. Currently, she is NileTESOL Learning Technologies Special Interest Group (LTSIG) Co-coordinator in Egypt.
For the past twenty years, Hanaa has taught English for Academic (EAP) and Specific Purposes (ESP) for young adults and adults in a variety of educational contexts mostly in the private sector. Over the years, she has endeavored to pass on her personally acquired knowledge and skills in the evolving field of instructional technology to fellow school and university teachers in Egypt. She started with basic and advanced Computer-Assisted Language Learning (CALL) CD- and web-based applications back in the early 2000s. Around mid-2000s, she experimented with more complex network-based computer interactions and their implications on language learning and teaching as well as student communication strategies.
Hanaa graduated in Linguistics and Translation – Faculty of Arts, Alexandria University, Egypt in 1996. Later, she graduated in TESOL from the American University in Cairo, Egypt in 2017. Since her college years, Hanaa has particularly focused on language learning and teaching in higher education.
Hanaa has managed various educational ventures in Alexandria University, the Arab Academy for Science and Technology, the American University in Cairo, Nile Egyptian Schools, and Zewail University in Egypt over the past 10 years.
Hanaa is currently co-coordinating the newly founded NileTESOL LTSIG in Egypt. Since 2016, she has collaborated with LTSIG team on initiating learning technologies face-to-face and virtual events connecting Egyptian participants with fellow colleagues around the globe. Some of the very special events were a virtual orientation on TESOL CALL-IS 2017 workshops, a Q/A virtual interview with Dr. Nellie Deutsch on empowering teachers with Moodle, and last but definitely not least a Virtual Roundtable Symposium having Nicky Hockly from Spain and a team of three Egyptian presenters from Egypt and the US in 2017.
Hanaa's latest article published in TESOL Greece Newsletter No. 134, April-June 2017, entitled Voice Apps for Interactive Mobile-Assisted Language Learning (MALL) Tasks, was based on her previous conference presentation in TESOL Greece conference in 2017. The article describes Hanaa's first trials of web-based/mobile voice apps with fellow coworkers and teacher trainees to create authentic integrated communicative tasks to facilitate group collaborations and language learning.
Hanaa's book, Communication Strategies in Problem-free Computer-mediated Interactions, published by Lambert Academic Publishing in February 2012, features her MA thesis researching student communication strategies in computer-mediated interactions during 2007-2008, a pre-Jan 25 Revolution time in Egypt where Egyptian youth were perceived as communicating for pastime leisurely activities rather than for any serious business or study work. Since it has become a life philosophy, the book concludes with Hanaa's emphasis on analyzing learner interactions through a problem-free lens focusing on communicative successes more than limitations.

Areas of expertise: TESOL, e-learning, adult education, university education, educational management, project management, instructional technology, pedagogy, curriculum development, assessment, evaluation, applied linguistics, pragmatics.