Maria Golubeva
Institution: Novosibirsk State Pedagogical University
Address: ul. Viluiskaya, d. 45, kv. 833 g. NOVOSIBIRSK RUSSIAN FEDERATION
Postal Code: 630126
Country: Russian Federation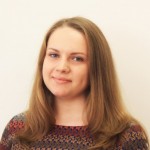 Maria Golubeva is a graduate at the Institute of childhood of the "Novosibirsk
State Pedagogical University" since 2013, specialization is 44.03.05 "Pedagogical education with two profiles", profiles "Preschool education and Foreign language (English)".

Maria has demonstrated herself as a capable, active and ambitious student. Maria regularly takes part in extracurricular activities (e.g., such as a methodical festival, "The Lesson of the XXI century"), helped to organize a Regional stage of preschool pedagogy competition in 2015.

Maria takes an active part in the Institute's scientific life. She is an author and coauthor of 18 publications, 4 articles are in journals, registered in Russian science citation index, one article was published in the international collection (Germany). Maria's research interest is a foreign (English) language teaching preschoolers, majority of her articles are devoted to this problem. In addition, Maria is the editor of three collections of students' research papers. Maria was awarded the scholarship named Y. Sharov for significant achievements in studies, scientific, technical, and creative activities in 2017. Maria Golubeva is characterized by her initiative, productivity and responsibility not only in education but in academic and social activities.