Julia Aplaeva
Institution: Novosibirsk State Pedagogical University, Federal State Budgetary Educational Institution of Higher Professional Education
Address: 25 let oktyabrya, 14
Postal Code: 630110
Country: Russian Federation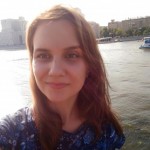 Julia Aplaeva is the 5-th year student of the Novosibirsk State Pedagogical University, which is the biggest pedagogical University of Russian Federation beyond the Urals, at the Geography and English Department.
Julia has been working as a tutor of English for elementary school children for 2 years. She is fond of working with children. Julia is looking forward to teaching practice in school.
She has been involved in quite a lot of conferences in her own university, that is why she is going to participate in International Conference. Her passion is travelling and learning new about countries and cultures. During the future trip to the Europe, she is going to improve her language skills and gain as much experience as she can.