Artem Umirov
Institution: Novosibirsk State Pedagogical University
Country: Russian Federation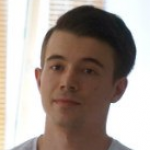 Umirov Artem is a 5th year student of Novosibirsk State Pedagogical University, which is the biggest pedagogical University of Russian Federation beyond the Urals.
Artem is studying at the Geography and English language department since 2013 and he is going to graduate university next year.
He has been involved in quite a lot of conferences in his own university, but he is going to participate in International conference for the first time.
During the future trip to the Europe, he is going to improve his language skills and gain as much experience as he can.