Nancy D'Ecclesiis
Institution: The Dalton School
Address: 205 North St. Apt 2
Postal Code: 10580
Country: United States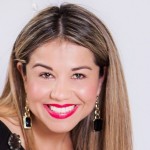 Nancy D'Ecclesiis is a passionate teacher of Spanish. A native speaker from Paraguay, she holds a B.A. in Foreign Language Education from New York University. She is currently teaching 1st-3rd grade Spanish at The Dalton School in New York City.

Nancy is passionate about designing and developing unique interactive thematic units and lessons using cutting edge technologies to engage students and maximize language learning. She has been involved in schoolwide diversity initiatives and continues to teach with an emphasis on equity and social justice. She serves as a mentor to new teachers and enjoys sharing resources and materials with colleagues via social media.

Nancy has presented workshops at many conference including the NYSAIS Global Language and Culture Conference in New York, The Dalton/Punahou Language Conference in Honolulu, Hawaii and the CAIS Evening for Language Educators in Connecticut.