Nataliya Belenkova
Institution: RUDN University
Country: Russian Federation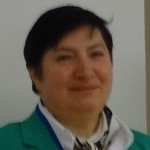 Nataliya Belenkova is an associate professor of Foreign Languages Department of Institute of Law, RUDN University

Nataliya graduated in Teaching English as a Foreign Language. Since then she has constantly been working in Higher Education Institutions.

The professional development includes PhD in Humanities (Pedagogy). She has more than 170 publications (including 2 monographies) in the field of Teaching English for Specific Purposes, Foreign Language Teaching methodology, Pedagogy of Higher Education and Teaching and Training Translators and Interpreters.

Nataliya regularly participates as a speaker or moderator at International and National Conferences on Linguistics and Foreign Language Teaching methodology. She is a member of the Conference Scientific Committee.

Current areas of research cover new approaches to teaching foreign languages at university, ICT integration in the foreign language teaching, contemporary problems of Pedagogy and Psychology of Higher Education, language and culture mediation.