Ethel Reyes-Chua
Institution: Emilio Aguinaldo College - Cavite
Country: Philippines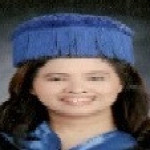 Ethel Chua is the Dean of the School of Education and currently the Manager of the Continuing Professional Development at EAC-Cavite, Philippines.

Ethel graduated in Bachelor of Secondary Education major in English and Library Science in Saint Mary's University in 1993. She finished her MA degrees both in English and Library Science and finished her doctorate degree in Educational Management. She has been constantly working in the academe, and in 2008 she had the opportunity to study in the U.K.to pursue her Post Graduate Certificate. She worked as an English Lecturer and Librarian in various colleges and universities in the Philippines. She worked in Saudi Arabia from 2010-2018. After that, she came back to her beloved country in August 2018 as the Dean of School of Education while teaching young educators in her department. She focused in the implementation of the Outcomes-based Education and the Continuing Professional Development.

Ethel is an expert in planning and organizing professional development activities such as the CPD in Emilio Aguinaldo College where all teaching professionals do attend to earn their CPD units. So far, she has been involved in so many programs as a trainer, speaker, module developer, and facilitator as well. She also loves research and her recent researches involved in school discipline, strategies of teaching, peer evaluation, and many others.

Aside from the CPD activities, she is also involved in many student leadership programs for the school year 2019-2020. Ethel is a professor in higher education level, and she is an excellent trainer and speaker in seminars and workshops in the field of education.

Ethel's passion is not only in the teaching and learning fields but also in Quality Management System. She experienced the full implementation of the ISO:9001:2008 and now, she is willing to learn the new version of ISO 9001:2015. She strongly believes in the principle of 'education with a heart' which is being advocated in EAC-Cavite.

Areas of expertise: English as a Foreign Language, Higher Education, Quality Assurance, Research and Development, Continuing Professional Development, Module Development, and Conference Planning and Organization.