Josefa Conde de Lindquist
Institution: University of North Carolina at Chapel Hill
Country: United States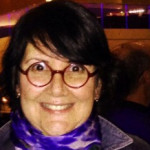 Dr. Lindquist graduated with a B.A. in Spanish in 1992 and M.A. in Spanish Literature in 1994 from the University of Utah. She completed her PhD in Romance Languages in 2005 form the University of North Carolina in Chapel Hill.
Dr. Lindquist is a medievalist with Tristan and Yseult and Merlin and King Arthur in all their incarnations as the center of her academic research. When it comes to research, Lindquist is torn between teaching and scholarly research. The main focus of her research is the Arthurian Legend's literary texts and its representation in art and film, as well as the influence of XVII century Dutch landscapist in Golden Age Spain. Besides publishing in Medieval topics, she has collaborated with Dr. Glynis Cowell and Audrey L. Heining-Boynton for ¡Anda: Curso elemental para estudiantes avanzados! (2012).
She delights in serving as the Master Class instructor and Coordinator for SPAN 105. Her dedication in the classroom is evident as she researches the materials the students receive in her classes, guiding the students to understand the methods, techniques, and strategies the authors use to produce meaning that stimulates the students' emotions and challenges their belief systems about social and cultural mores and norms so that they can relate them to their personal experience. Her dedication is also evident in her role as coordinator, ensuring that instructors feel comfortable and supported while pushing them to achieve the excellence of teaching required at UNC.
Lindquist also serves on the Ackland Planning Committee (2012-Present), as a mentor for the Carolina Johnston Scholars (2018- Present), Carolina Covenant Scholarship (2012-Present), in the Office of Undergraduate Research Committee (2011-Present),as a University Hearing Board Member (2012-Present), as the Spanish House Faculty Liaison (2007-2016), and as the sponsoring faculty member of the UNC Ski-Snowboard Team (March 2011-Present).

Areas of expertise: Medieval Arthurian literature, Medieval garden spaces, Medieval fashion and cooking, Dutch and Italian Renaissance Art, mentoring and coordinating novice instructors of foreign languages, assessment and evaluation of instructors, higher education, adult education in continuing studies, e-learning, language learning to teach across the curriculum, languages for specific purposes, modern art painter, and art history novice scholar.