Alla Nazarenko
Institution: Lomonosov Moscow State University
Country: Russian Federation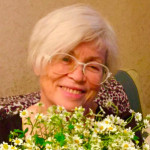 Alla Nazarenko is an Honored Professor of Moscow State University, Head of Linguistics and IT Department of the Faculty of Foreign Languages and Area Studies. She has a PhD and a Doctoral Degree in Philology.

Alla delivers lectures in distance and blended learning to students, pre-service and in-service teachers, conducts intercultural telecommunication projects with various universities of the world.

Alla's scientific interests include issues of informatization of linguistic education, the theory and methods of integrating ICT in teaching, the didactic principles of distance and blended learning, the use of Internet resources and services to optimize language learning.

Alla actively participates in the scientific life of the world linguistic community: she gives talks at national and international conferences, publishes articles in Russian and international journals. She is the author of 110 works, including monographs, textbooks and teaching aids, curriculum programs and research papers.