Falguni Bharateeya
Institution: Nalini-Arvind & T.V. Patel Arts College
Country: India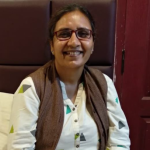 Falguni Bharateeya is an associate professor at Nalini Arvind & T.V.Patel Arts College affiliated with Sardar Patel University, Anand, Gujarat. She has been teaching English language and literature at the undergraduate level for more than
25 years now.
Falguni studied English at the graduate and postgraduate levels and did her doctoral research on 'Creativity in Contemporary Indian Women Writing'.
Falguni has contributed as a content w riter for textbooks in Gujarat with British council and MacMillan Publication India. She has worked as a coordinator for a Mobile encyclopedia project with Baba Saheb Ambedkar University, Gujarat. As a translator, Falguni has worked for Gujarati into English and English into Gujarati translations of Poetry, Short Stories, Essays and reports.
Falguni has coordinated ' Rivers Project' which aspired to bring environmental awareness through arts and creative technology with Gujarati and Yorkshire creative writers, artists and technocrats. The project won the 'Best Climate Change' awa rd in Yorkshire in 2009.
Falguni has presented 25 research papers, written two chapters on gender and sexuality and Dalit writing. She has chaired 6 sessions at national and international seminars and conference.

Areas of interest: community projects, Aesthetics, Environmental studies, Tribal Studies, Translation studies, Interdisciplinary studies Areas of expertise: content writing, Indian English writing, Higher education.