Carmen Argondizzo
Institution: University of Calabria
Country: Italy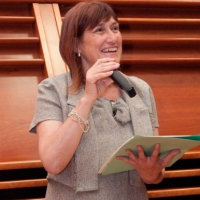 Carmen Argondizzo is Professor of English Linguistics at the University of Calabria (Italy) where she teaches students majoring in Economics, Business Administration and Political Science.

Her research interests focus on discourse analysis in the field of Language for Special Purposes and the related pedagogical implications, considered through a humanistic perspective within the academic context. She is President of the Language Centre at the University of Calabria where she coordinates European projects aimed at enhancing students' autonomous language learning in the academic, business and socio-economic-political sectors. Some projects have been awarded the European Language Label (www.cmcproject.it 2006; www.cmceproject.it 2010) and the European Language Label of Labels Award (www.cmceproject.it 2012) by the European Commission as 'best practice' in the promotion of multilingualism and multiculturalism in the academic and enterprise sectors.

She has recently become President of the AICLU (Associazione Italiana dei Centri Linguistici Universitari) which has aim of creating a network among Italian university Language Centres by coordinating their activities at the national and international level. Her commitment within the Association has the long-term objectives of encouraging actions which contribute to the didactic quality offered by Italian language centres, promoting research in language learning and teaching carried out within the national context and representing these activities within European institutions.

Her publications, which highlight her participation to several national and international conferences, integrate the research fields she is specifically interested in with pedagogical reflections that research findings may stimulate. Her most recent publication Creativity and Innovation in Language Education appears in the Peter Lang Linguistic Insights series.
Area of Expertise: Language teaching for academic purposes, project management, higher education, multilingualism, autonomous learning, humanistic language learning, languages for special purposes.