Carmen Argondizzo
Institution: University of Calabria
Country: Italy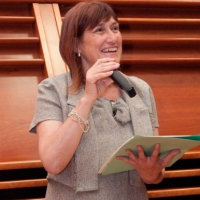 Carmen Argondizzo is Honorary Professor of English Language and Linguistics at the University of Calabria (Italy) where, throughout the years, she has been teaching students majoring in Business Administration, Political Science, Cooperation and Development, Finance and Insurance, Pedagogical Studies, Linguistic Mediation and Primary School Education.

She was President of the Language Centre at the University of Calabria until March 2023, where she coordinated award-winning European projects aimed at enhancing students' autonomous language learning in the academic and professional sectors. Some of these projects were awarded the Best Practice Label (2007, 2010) and the Label of European Labels Award (2012) by the European Commission. In particular, the CMC_E Communicating in Multilingual Contexts meets Enterprises Project was acknowledged as one of the 5 best European projects that developed innovative language products promoting multilingualism and multiculturalism. She also gradually created and coordinated the OLA (Offerta Linguistica di Ateneo) Project which offers language courses to the academic community of students enrolled in almost all degree courses at the University of Calabria. Her commitment involved also many activities dedicated to the entire academic community and to the public sector, in particular the School context, that were aimed at empowering English language competences among learners and at encouraging curiosity and passion for language across cultures knowledge.

She continues to devote a considerable amount of her professional life to the AICLU, Associazione Italiana dei Centri Linguistici Universitari, within which she has been covering several roles: Secretary General (2010-2013), President (2013-2016, 2019-today). The AICLU aims to promote not only research in language learning and teaching carried out in university Language Centres but also to represent such research outcomes within both national and international contexts. Since September 2016 she has been Vice-President of CercleS, within which she takes an active part in the decision-making process of this European community of practice. She is currently Co-Editor-in Chief of Language Learning in Higher Education (De Gruyter), the CercleS Journal.

Her research interests focus on discourse analysis in the field of Language for Academic Purposes and the related pedagogical implications, considered from a humanistic perspective. Her publications stem from the numerous international conferences and national seminars in which she participates. They include Creativity and Innovation in Language Education (Peter Lang, 2012); European Projects in University Language Centres: Creativity, Dynamics, Best Practice (Peter Lang, 2015); The ELP through time: Background motivation, growing experience, current beliefs (LLHE, De Gruyter Mouton, 2016); Lo sviluppo e la valutazione delle competenze linguistiche in contesto accademico secondo il Quadro Comune di Riferimento Europeo (Consiglio d'Europa 2001, 2018): spunti di ricerca ed esperienze sul campo (Aracne, 2018); Celebrating CercleS: Introductory notes to 30 years of professional activity in the field of language learning and teaching (LLHE, De Gruyter, 2020); Wellbeing in language learning and teaching (LLHE, De Gruyter, 2021); Introduction: Research on sustainable development literacy and affective learning and teaching actions (LLHE, De Gruyter, 2022); Introduction: The fascinating world of language teaching and learning varieties (LLHE, De Gruyter, 2023).

She was appointed Rector's Delegate for Incoming Student Orientation (2007-2013). This gave her the chance to organize activities aimed at creating synergy between the university and the school contexts. Later, she was appointed Rector's Delegate for Creativity on Campus (2013-2019) which enabled her to enhance young artists' creativity within and for the university campus.
Area/s of Expertise: English for Academic Purposes, English for Specific Purposes, Humanistic Language Learning and Teaching, Autonomous Learning, Multilingualism, Project Management.