Maria Stepanova
Institution: Moscow State Institute of International Relations (University) of the Ministry of Foreign Affairs of the Russian Federation (Odintsovo Branch)
Country: Russian Federation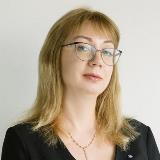 Maria Stepanova is an associate professor of Moscow State Institute of International Relations (University) of the Ministry of Foreign Affairs Russian Federation (Odintsovo Branch). She is a co-founder and Chair of the Steering Committee of the Association of Translator and Interpreter Trainers.

Maria has a PhD in Education (2000), an MA in Chemistry and Philology (1997) from Herzen State Pedagogical University of Russia, and MA in Management in Higher Education (2017) from Higher School of Economics.

She teaches BA and MA courses in translation and interpreting and is involved in administrative duties related to curriculum design, programme development, and training course administration. She is the author of more than 100 publications including articles, study guides and course books.

Maria regularly takes part in international conferences in the field of linguistics, foreign languages, translation, education and training. She is regularly involved in organizing international conferences. She gives lectures to foreign language teachers on the modern approaches and methods of teaching.
Area/s of Expertise: Translation and Interpreting, LSP (Language for Specific Purposes) Teaching, Education Management, Quality Management.