Nebojša Radić
Institution: University of Cambridge
Country: United Kingdom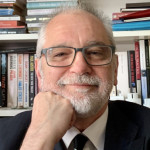 Nebojša Radić is the first Director of the Cambridge University Institution-wide world languages programme (CULP). This Programme sits within the University Language Centre and apart from the general language tuition, offers courses for specific purposes such as academic reading courses, courses for students of Medicine, Divinity (theology), History, Centres for Latin American and African studies as well as Music. The courses are delivered in a blended-learning mode with the use of a Moodle VLE. The Language Centre has a dedicated technical section that in conjunction with the CULP teaching staff designs, produces and delivers online multimedia, interactive learning resources. The most recent of these resources can be freely downloaded from the LC Open Courseware page.

Apart from managing the Programme and leading a team of nearly thirty language lecturers Nebojša Radić teaches Italian academic reading courses, supervises PhD students (Anthropology) in the Serbian language and culture and has recently taught a course on Italian Opera (Lorenzo da Ponte's libretto for Mozart's Don Giovanni) and co-designed multimedia resources in Italian, Arabic and Swahili.

Neboša Radić served at the University's Engineering Department Language Unit Management Committee, the Working with Schools Committee (outreach), as Senior Treasurer of the University basketball club and is Senior Member at Darwin College.

Nebojša also served as deputy Chair of the Standing Conference for Heads of Modern languages in UK and the Executive Committee member of the UK Council of Modern Languages. In 2006 he and colleagues, received the European Award for Languages for the Junior CULP outreach and e-learning project.

Before coming to Cambridge in 2001, Nebojša Radić was Coordinator of the Flexible Learning Project at the School of European Languages and Literatures and Senior Tutor in Italian at the University of Auckland in New Zealand.

Nebojša Radić is a published author in the English (under the nom de guerre of Sam Caxton), Serbian and Italian languages.

Nebojša studied at universities in Yugoslavia (Belgrade), Italy (Perugia), New Zealand (Auckland), Canada (British Columbia, Vancouver) as well as in the UK (UEA, Norwich).
Area/s of Expertise: Methodology of Language Teaching in Blended-Learning Environments, e-Learning, Teacher Training, Language Programmes Management, Italian and Serbian Languages and Literatures, Intercultural Communication and Competence, Literary Translation, Self-Translation, Trans-Lingual Literary Practice, World Literature and Creative Writing.