Dönercan Dönük
Institution: Mersin University
Country: Turkey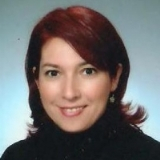 Dönercan Dönük has been working at Mersin University for 22 years. She holds her MA in linguistics and PhD in English Language Teaching. She has a diverse experience in English language teaching as well as in teaching Turkish to foreigners. Besides, she is an expert at preparing language exams.

She has delivered many conferences on national and international platforms, and she has papers published in journals or books.
Area/s of Expertise: Quality of Teacher Education and Training, Teaching Lexico-Grammar through ICT, Teaching Young Learners, Drama, Applied Linguistics, Teaching Turkish to Foreigners.