Jean M. Jimenez
Institution: University of Calabria
Country: Italy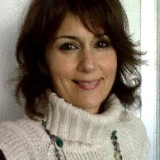 Jean M. Jimenez is a Researcher in English Language and Translation at the University of Calabria, Italy, where she teaches English for Academic Purposes and English for Specific Purposes. She is currently part of the Advisory Board of the University Language Centre, where she is involved in the coordination of the development of EFL tests for university students attending basic academic English language courses. Previously she worked as a Lecturer at the University of Bologna, Italy.

Jean holds a PhD in Applied Linguistics from Lancaster University, UK. Her thesis examined the role of immediate electronic corrective feedback on foreign language development. Before completing her PhD, she obtained a Bachelor of Arts in Italian and in International Relations at the University of Wisconsin, USA, a degree in Foreign Language and Literature at the University of Calabria, and a Master of Arts in Teaching English as a Foreign Language at the University of Reading, UK.

Jean has taken part in several European Projects, including the award-winning CMC- Communicating in Multilingual Contexts: Awareness and development of academic language skills for mobility students and CMC_E Communicating in Multilingual Contexts meets Enterprises. Her tasks involved checking and revising the online materials created by the Team of European universities to promote the development of academic and professional language skills in six different languages.

Jean participated in the Progetto ClaC as an advisor. The project, funded by the Regione Calabria, offered English language courses (ranging from A1 to C2) to undergraduate and graduate students as well as school teachers. Her role included collaborating in the design of the curriculum, selecting didactic materials, and supervising the work of the language instructors. In addition, she was also a member and coordinator of the Test Development Team, which was responsible for creating the in-house exams administered at the end of the ClaC courses.

Jean also took part in the AICLUCert project, which was set up to develop a language assessment tool to be used in the Italian university context. In particular, the specific aims of the project were to bring together the resources of various language centres in order to share expertise and good practices in language testing, and create standardized language tests in English, German, and Italian.

Her research interests include Second Language Acquisition, Corrective Feedback in Computer Assisted Language Learning, and Testing. She has recently become interested in the use of Corpus Linguistics in the second language classroom. She has presented papers at national and international conferences in Europe, including EuroSLA 2013, and North America, including AAAL 2015. She has also participated as a speaker in the invited speakers series at the Institute of Education, University of London, UK. Jean was member of the Scientific Committee of the XIV CercleS International Conference - Enhancing Learners' Creative and Critical Thinking: the Role of University Language Centres- University Language Centre, University of Calabria.
Area/s of Expertise: Corrective Feedback, ICT and Language Learning, Language Testing and Assessment, English for Specific Purposes, English for Academic Purposes, Learner Autonomy in University Contexts.