Monica Barni
Institution: Università per Stranieri di Siena
Country: Italy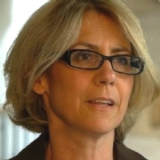 Monica Barni is a full professor in Educational Linguistics at the Università per Stranieri di Siena. She directs both the CILS (Certification of Italian as a Foreign Language) and the research project Foreign Languages in Italy at the 'Permanent Linguistic Observatory for Foreigners' Italian and Immigrant Languages in Italy' centre for research excellence under the aegis of the Italian Ministry of Education, Universities and Research.

Her research activity focuses on issues surrounding language teaching: theories and methods of testing and assessing linguistic and communicative competence; the ethics of language testing and the social and political consequences of the use of tests; analysis of the impact of national and European language policies towards language-learning curricula, regarding in particular L2 Italian both within Italy and outside of it.

She has also carries out research on immigrant languages in Italian society and schools, elaborating new investigative methodologies for collecting and analysing data on their presence, diffusion, vitality and visibility. Her research into immigrant languages has as its aim to analyse the contexts and conditions of plurilingualism and linguistic contact in Italy, especially insofar as they are influenced by processes of immigration; the aim is also to derive information for suggesting suitable measures to be taken in language education.
Area/s of Expertise: Multilingualism, Language Policy, Language Learning and Teaching, Language Testing, Linguistic Landscape.