Alan Bruce
Institution: Universal Learning Systems
Country: Ireland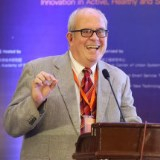 Dr Bruce is Director of Universal Learning Systems – an international consultancy firm specializing in research, education, training and project management. He is a sociologist who studied in Los Angeles, Galway, Amsterdam and Hull. He has lectured in universities in France, England and Ireland and worked in policy research for the European Commission. In Ireland he was responsible for national initiatives in professional development in the disability sector. He is Adjunct Professor in the Department of Rehabilitation Counseling with the University of Wisconsin-Stout and an adviser on international relations to the University of Memphis. He teaches for the National University of Ireland Galway on learning policy, diversity and systematic training. He is Academic Adviser and course development specialist for equality and diversity training for An Garda Siochana and the Police Service of Northern Ireland. He has extensive involvement with conflict transformation training and applied learning in Northern Ireland, Bosnia and Kosovo. He is Senior Research Fellow with the University of Edinburgh with responsibility for educational social inclusion and innovative EU projects.
He was elected Fellow of the European Distance and E-Learning Network in 2007 and Vice-President of EDEN in 2010. He has written policy and conducted research for Irish government agencies with particular reference to community employment, best practice and labor market outcomes for marginalized groups. He has lectured and published widely on the social impact of disability, interculturalism, migration, integration, labor market policy, innovative education, distance learning, social inclusion, conflict transformation, strategic change and managing diversity. Selected recent publications:
• Open Classroom: Vision, Challenges, Perspectives, EDEN: Athens (October 2011)
• International Crisis – Global Opportunity: diversity, inclusion and best practice in European rehabilitation, IARP: Scottsdale, Arizona (February 2011).
• Learning for New Identities, New Security Forum, Berlin (December 2010).
• Transformational Learning: theory, practice and policy in the construction of strategic innovation and creativity, UPV-EHU, San Sebastian (July 2010).
• E-Learning Innovation and the Challenge of Change, with T. Patala, in "Diversitate si Identitate Culturala in Europa", 7/1, Bucharest: ELMR (2010).
• Engaging Inclusive Learning, in "Equality in a Time of Change: mainstreaming equality", Dublin: Equality Authority, 2010
• Discovering Vision: theoretical foundations for innovation and creativity in lifelong learning, EHU/UPV: San Sebastian (2010).
• Preparing Pupils for a Changing Planet: learner empowerment and cultural competence through innovative best practice, with A. Papdopoulis, Universidade Aberta de Portugal, Porto (October 2009).
• "Beyond Barriers: Intercultural Learning and Inclusion in Globalized Paradigms", in Szucs, A. et al (eds.), Distance and E-Learning in Transition, London: Wiley (2009).
Area of Expertise: Intercultural theory and practice, social inclusion, diversity management, migration, equality practice, human rights, conflict transformation, innovative pedagogies, e-learning, learning architecture, evaluation, research methodology and strategic planning.