Alan Bruce
Institution: Universal Learning Systems
Country: Ireland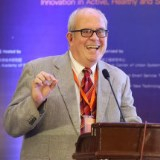 Dr Alan Bruce is CEO and Director of Universal Learning Systems – an international consultancy firm specializing in research, training and project management. ULS operates in the educational, development and management sectors. It has offices in Ireland, Barcelona, Helsinki, Sao Paulo and Chicago. Dr Bruce is a sociologist who studied in Los Angeles, Galway and Amsterdam. He has lectured in universities in France, England and Ireland and worked in policy research for the European Commission in Brussels. In Ireland he was responsible at national level for the training and accreditation of specialists working in vocational rehabilitation in the disability sector. He has lectured and published widely on the social construction of disability, labour market policy, equality paradigms, social inclusion, strategic change and managing diversity.

He lectures for the National University of Ireland Galway in equality, diversity and systematic training. An international academic adviser for the University of Memphis, he was appointed to its Graduate Faculty in the Department of Psychology and Counselling in 2014. In 2014, Dr. Bruce was appointed to the Board of NCRE (National Council on Rehabilitation Education) in Washington, DC. In 2018 he was appointed to the Board of CORA (Council on Rehabilitation Accreditation) in Memphis, Tennessee. Senior Research Fellow in Education with the University of Edinburgh (2009-2014), in 2015 he was elected as Senior Fellow of EDEN (European Distance and E-Learning Network). In 2010 he became Vice-President of EDEN.

In 2014 he was appointed Associate Professor with UOC (Open University of Catalonia) in Barcelona on conflict resolution and innovative learning. In 2016 he was International Expert for Innovative Learning with the Open University of Hong Kong and the launch of the Institute for Research in Open and Innovative Education (IROPINE). In 2016 he was appointed as Visiting Professor for Global Learning in the Changhua University of Education in Taiwan.

In 2016 he developed the Master in Online, Open and Distance Learning for Charles Sturt University, Australia. He was also appointed as Learning Design Expert with Universidad Nacional de Educación (UNAE) in Ecuador. He works intensively at the intersection of digital learning, inclusion strategies and innovative universal design. In 2018 he was appointed to the Steering Committee on Online Training for the European Workforce, established by the European Commission. He is Academic Coordinator for the Conflicts of Interest program validated by Queens University Belfast. A member of the Association for Historical Dialogue and Research in Cyprus, he has lectured in Kosovo, Bosnia, Romania, Cyprus and Northern Ireland on conflict transformation, human rights and innovative learning. In 2018 he was appointed as External Expert for the European Commission in Brussels on migration policy and social inclusion. He is currently the Irish representative on the EU Erasmus + Capacity Building project on ICT supported language learning for universities in Palestine.

Selected recent publications:

• Digitally supported learning for healthcare professional training: competence acquisition in contexts of demographic change and uncertainty, with T. Patala and M. Marmé, SCSI: Beijing (September 2018).
• Open Horizons and Global Citizenship: the disruptive innovation of collaborative pedagogy, Keynote paper, ICOFE, Hong Kong (July 2016)
• Humanizing Systemic Change: Learning, Technology and Diversity in Globalized Crisis, Revista UNAE, 1:1, UNAE: Quito, September 2018.
• Teacher Roles and Digital Threats: Preventing and addressing cyberbullying in European schools, with I. Graham, EDEN: Barcelona (October 2018)
• Open Classroom: Vision, Challenges, Perspectives, EDEN: Athens (October 2011)
• International Crisis – Global Opportunity: diversity, inclusion and best practice in European rehabilitation, IARP: Scottsdale, Arizona (February 2011).
• E-Learning Innovation and the Challenge of Change, with T. Patala, in "Diversitate si Identitate Culturala in Europa", 7/1, Bucharest: ELMR (2010).
• Discovering Vision: theoretical foundations for innovation and creativity in lifelong learning, EHU/UPV: San Sebastian (2010).
• Preparing Pupils for a Changing Planet: learner empowerment and cultural competence through innovative best practice, with A. Papdopoulis, Universidade Aberta de Portugal, Porto (October 2009).
• "Beyond Barriers: Intercultural Learning and Inclusion in Globalized Paradigms", in Szucs, A. et al (eds.), Distance and E-Learning in Transition, London: Wiley (2009).
Area/s of Expertise: Intercultural Theory and Practice, Social Inclusion, Diversity Management, Migration, Equality Practice, Human Rights, Conflict Transformation, Innovative Pedagogies, e-Learning, Learning Architecture, Evaluation, Research Methodology, Strategic Planning.