Naira Poghosyan
Institution: Brusov State University
Country: Armenia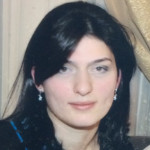 Naira Vazgen Poghosyan is PhD, Associate Professor at National University of Architecture and Construction of Armenia, from 2005 to 2020, at the chair of Languages as an ESP teacher.
She has concurrently been working at Brusov State University (since 2011) in the chair of Pedagogy and Foreign Language Teaching Methodology, as an Associate Professor.
Naira graduated from Yerevan State Linguistic University aft. Valery Brusov (2000-2005), Faculty of Foreign Languages, with the specialization of a teacher of English and Spanish languages.
In the period from 2005-2008 Naira studied and graduated from the State Academy of Management of the Republic of Armenia, the faculty of Management Psychology.
Since 2015 Naira has been a member of IATBLT: International Association of Task-Based Language Teaching. She is also a member of ADTEL: Association for the Development of Teaching Education and Learning.

Areas of expertise: ESP teaching methodology, e-learning, task-based language teaching in ESP, teaching English to nursery and elementary school children.