Letizia Cinganotto
Institution: University for Foreigners of Perugia
Country: Italy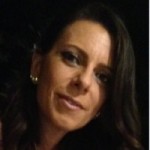 Letizia Cinganotto is a researcher at INDIRE, the Italian Institute for Documentation, Innovation and Educational Research.
She graduated in foreign languages and achieved a PhD in linguistics, discussing a thesis on CLIL methodology. She has also achieved post graduate qualifications in EFL, digital learning, e-learning.
Former teacher of English, teacher trainer and author of digital contents, she worked for several years at the Italian Ministry of Education, University and Research, dealing with issues relating to the upper secondary school reform, with particular focus on foreign languages and on CLIL.

She co-moderated the EVO (Electronic Village Online, Tesol International) session titled "Techno-CLIL" on CLIL and ICT, which registered 5000 participants in 2016 and 2017.

She has presented papers and posters at national and international conferences and published articles in national and international peer-reviewed journals.
Area of Expertise: CLIL (Content and Language Integrated Learning), language learning, CALL (Computer Assisted Language Learning), TELL (Technology Enhanced Language Learning), MALL (Mobile Assisted Language Learning), MOOC, e-learning, blended learning, school education.