Christina Rosén
Institution: Linnaeus University
Country: Sweden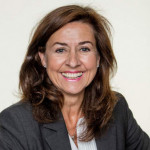 Christina Rosén is Assistant Professor in German at the Department of Languages, Linnaeus University in Växjö, Sweden.

Christina has undergone teacher training in English and German and has many years of experience in compulsory school and adult education as well as assignment training at companies. In 2009 she was a guest professor at the Christian-Albrechts-Universität zu Kiel (the Öresundprofessur).

Christina holds a degree from Lund University, where she graduated in German linguistics in 2006. The dissertation "Warum klingt das nicht Deutsch?" is about information structuring in texts written in L3 German by Swedish learners. Her research focuses on second language acquisition. A new research area is the use of digital learning tools in the European language classroom. Another ongoing research project focuses on the effect of process-oriented writing on text quality and students' attitudes towards writing in a third language.

She has been a coordinator in European networks, focusing on second language learning and in-service training for teachers.

She has also coordinated a project for The Swedish National Agency for Education, in-service training for language teachers in Sweden: Written production and interaction.
Areas of expertise: Higher education, school education, adult education, second language learning, information structure, pragmatics, written L2-production.