Luisa Panichi
Institution: University of Pisa
Country: Italy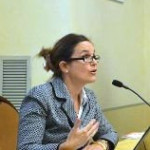 Dr Luisa Panichi is an academic in the field of Modern Languages and has been teaching at university level for 30 years. She has a track record of innovation in language teaching and online education. She also works as a consultant in the public education sector in Europe and for the corporate sector in Europe and the US.

Luisa Panichi holds a PhD in Modern Languages from the University of Hull, UK and a BA from Monash University, Australia. In 2007 she graduated from the University of Pisa, Italy, as Dottore Magistrale in Modern Languages and Literatures. In 2019 she completed her training as a professional counsellor in the field of education.

In her role as Foreign Language Teacher (Lettore di Lingua Inglese) at the University of Pisa and in her work for other tertiary educational institutions she has taught at both the undergraduate and post-graduate level and across all university faculties and departments. Her teaching expertise lies in particular in Business English, English for Academic Purposes (EAP), Language Learner Advising and Tandem learning. Luisa has also worked as a teacher trainer in the field of Modern Languages and in the use of technology in education at a national and international level.

Luisa Panichi has experience of European project development, management, research and leadership. She was a key promoter and coordinator of the EUROVERSITY Network from 2011 to 2015 (www.euroversity.eu). The project was funded under Key Activity 3 (ICT) of the LLP of the EACEA (Project no. 518944-LLP-1-2011-1-UK-KA3-KA3NW-EuroV). The Network promotes the use of virtual worlds for education, training and research in all subjects. From 2009 to 2010 she was Leader for the Research and Development workpackage under the Avalon Learning Project (www.avalonlearning.eu), funded under Key Activity 3 (ICT) of the LLP of the EACEA (Project no. 143643-LLP-1-2008). The project explored the use of virtual worlds in language education.

As a consultant, Luisa Panichi is regularly engaged for the revision, editing and proofreading of academic and scientific work for publication in English. She is a language coach for corporate senior management and pedagogical adviser to private language development companies.

Luisa Panichi is a member of several scientific committees and review boards. She is an active participant and presenter at international conferences and has been invited as plenary speaker on a number of occasions. Luisa Panichi can list over 30 publications in scientific journals, conference proceedings and edited books within her research field. She has published translations and is the author of a text-book for students of English for Economics and Business.

Areas of expertise: Language Teaching and Innovation, Learner Advising, Computer Mediated Communication, Virtual World Platforms for Education and Training Including Science and Business.