Donna Chambers
Institution: Penn State Berks
Country: United States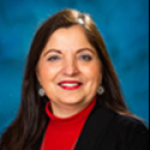 Dr. Donna Chambers is an Associate Teaching Professor of Spanish at Penn State Berks where she is also the Director of The OCE, The Office of Community Engagement. Although she holds a Ph.D. from Georgetown University specializing in 17th century Spanish women's literature, many of the language, literature, and culture courses she teaches are service-learning courses that focus on Latinos in the United States.

Dr. Chambers is deeply involved with the Reading Latino Community in educational,
civic, and cultural matters. As a past president of the Latin American Cultural
Center, she is instrumental in organizing annual county wide cultural events
such as Breaking Barriers, Building Bridges and LACC's Spanish Poetry Writing
contest.

Dr. Chambers also works internationally with colleagues and students. In
2018, she co-created a service-learning program between Penn State Berks and
the University of Split, Croatia. Both universities continue to collaborate on
research and co-present at international service-learning conferences.

Areas of expertise: Language learning, higher education, school education, service-learning, international community engagement, e-learning, languages for specific purposes.