Kalpana Mukunda Iyengar
Institution: University of Texas - San Antonio
Country: United States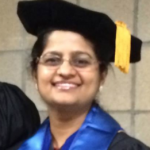 Kalpana M. Iyengar earned her PhD in literacy at the University of Texas - San Antonio. She was later awarded a postdoctoral fellowship in the Bicultural Bilingual Studies Department. She holds a master's in Linguistics and Commonwealth Literature from Bangalore University and a second masters from Kutztown University, Pennsylvania. Dr. Iyengar received a B.Sc. from Arakalagudu Varadarajulu Kanthamma College for Women, Hassan.
Dr. Iyengar's research foci include cultural preservation, literacy, teacher preparation, Indic cultures, and multicultural education. She co-edited a volume with Cognella Publishers, book chapters in IGI Publications, and articles in peer-reviewed journals including Educational Studies, South Asian Review, Devsanskrithi Interdisciplinary (DSVV) Journal, and English in Texas.
Dr. Iyengar was selected as a San Antonio Writing Project Summer (SAWP) Institute Fellow, 2007. She subsequently became a teacher-consultant and co-director for the SAWP. Continuing her research interest, she co-founded/co-directed the DSVV Haridwar Writing Project in India. In recognition of her literacy work, she was awarded the National Council of Teachers of English Distinguished Early College Educator of Color Award.
Dr. Iyengar's co-edited volume (with Dr. Smith), Diversity in Society and Schools, was published by Cognella Press, 2021. Her current project, a co-edited volume on biliteracy development, will be published by Kendall Hunt, 2022.
Dr. Iyengar offers teacher preparation and literacy courses at UTSA. She was lead faculty for the Family Literacy Project sponsored by the Center for Inquiry of Transformative Literacies. Dr. Iyengar was a Scholar-in-Residence at DSVV and continues to teach in the English department as a honorary visiting professor.