Kathleen Brannen
Institution: Université du Québec à Montréal
Country: Canada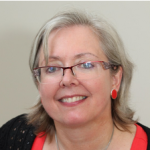 Kathleen Brannen is a lecturer at the Université du Québec à Montréal (UQAM) and the University of Ottawa. She holds a PhD from McGill University, specializing in the phonetics and phonology of second language acquisition. At UQAM, she has been teaching ESL for 20 years, specializing in pronunciation and speech perception. At UOttawa, she has been teaching linguistics for 15 years.

Her research interests include: methods to improve pronunciation accuracy and foster independent learning, transfer and cognitive effects in L2 phonology.

She has been involved in several projects at UQAM including the development of guidebooks to help language teachers better accommodate and integrate students with visual and auditory deficiencies and the development of placement tests for the English program.