Nikola Dimeski
Institution: Faculty of Economics – Prilep, University St. Kliment Ohridski - Bitola
Country: Macedonia, The former Yugoslav Republic of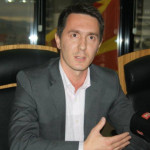 Nikola Dimeski has been in education since 2004, teaching different courses including English, English for Economics, Business English and Academic writing. He joined the Faculty of Economics – Prilep in 2008 as a Junior Lecturer. Nikola earned his PhD in English in 2017 from the Faculty of Languages, Cultures and Communications at the South East European University. Since 2018, he is an Assistant Professor of Business English at the Faculty of Economics in Prilep.

In addition to his academic experience, from 2011 to 2016, he was the director of the MBA program by Franklin University from Ohio, offered in Macedonia, successfully completing a project of two cohorts of Macedonian students earning an MBA from Franklin University. Prior to the engagement at the Faculty of Economics in Prilep, he also gained extensive experience in management, including general manager of a local TV station, house manager of the Cape Playhouse in Dennis, Massachusetts in the USA, and other managerial positions in private companies in several countries. In 2013 Nikola had also been elected as a President of the Prilep City Council and served a full mandate of four years.

His current academic research concentrates on improving the Business English teaching-learning process by using digital tools, E-learning, blended learning, and incorporating other teaching strategies.