Concepcion Godev
Institution: University of North Carolina at Charlotte
Country: United States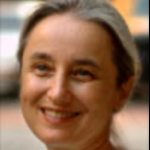 She received her Ph.D. in Spanish Linguistics from The Pennsylvania State University in 1992. She is a professor of translation studies and Spanish linguistics at the University of North Carolina at Charlotte.

She has taught graduate courses on translation of political discourse, subtitling, and pragmatics, and courses on Spanish linguistics and Spanish as a second language.

Her research focuses on pedagogical aspects of translation and second language acquisition. Has co-authored an Intermediate Spanish textbook, Más allá de las palabras, published by John Wiley & Sons and has edited Translation, Globalization and Translocation: The Classroom and Beyond, published by Palgrave MacMillan. She has published research articles in journals such as Foreign Language Annals, Hispania, Círculo de Lingüística Aplicada a la Comunicación, Revista de Lingüística Teórica y Aplicada, and NECTFL Review.

In collaboration with the Center for Teaching and Learning, she has contributed to the effort of redesigning large courses and expanding the offering of online courses. She oversaw the redesign of first-year Spanish, which pioneered large course redesign at the University of North Carolina at Charlotte.

Areas of expertise: translation studies, second language acquisition and Spanish linguistics, online instruction.