Peter Hishinlai'
Institution: University of Alaska Fairbanks
Country: United States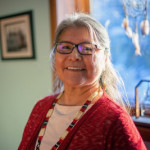 Hishinlai' R. Peter is a Gwich'in language professor at the University of Alaska Fairbanks. Her expertise is in second language acquisition, especially in Indigenous languages.

Hishinlai' graduated with a B.A., in Linguistics, and has a M.Ed., in the field of Curriculum and Instruction. The name of her thesis is Classroom Culture and Indigenous Classrooms. In 2019, she received her Ph.D. in Applied Linguistics. The title of her dissertation is Adult Language Learning and Effects on Identity. Since Hishinlai' received her BA in Linguistics in 2000, she has been working tirelessly in the field of Gwich'in linguistics and then broadened the field of linguistics into second language acquisition. More specifically, in the field of second language acquisition is her interest in sociocultural theory (SCT). Embedded within SCT is Activity Theory (AT). Both of these theories have assisted Hishinlai' in gaining access to understanding how Indigenous languages can be taught or learned.

The "marriage" of Gwich'in linguistics and education was a perfect foundation for second language acquisition and teaching. These two disciplines helped build teaching and learning an Indigenous language from ground zero at the university level. Additionally, other classes that focus on Indigenous language teaching or learning have been developed by Hishinlai'. These classes are Teaching Methods for Alaska Native Languages; Curriculum and Materials Development, and the Alaska Native Language Apprenticeship I & II. Much research, specific to Indigenous languages, took place to develop all of these courses.

Hishinlai's expertise in the areas of Indigenous language learning and teaching has been sought out by other Indigenous Alaskan, Canadian and Scandanavian cultures in the teaching or learning of their own languages. She has worked with the following Indigenous groups: Lingít, Gwich'in, Alutiiq, Northern Tutchone, Southern Tutchone, Kaska, Iñupiaq, Aleut, Yup'ik, Haida and Sàmi. Not only do individual Indigenous groups seek out her expertise, but her time is also sought out by local and community organizations, plus university classes for presentations or translations.

Indigenous cultural sharing is part of the value system, and to that end, in the forthcoming year, Hishinlai' will share her day-to-day language lessons in a book that will be for language teachers, whether they are Indigenous or not. Most of this work is almost complete, and will be in publication by the department in which I work, which is the Alaska Native Language Center.

Areas of expertise: Second language learning, second language teaching, Indigenous languages, Sociocultural theory, activity theory, Gwich'in linguistics, classroom culture, higher education, adult education, curriculum development, language lessons, language learning activities.