Elham Zandvakili
Institution: University of Massachusetts
Country: United States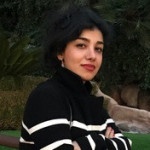 Elham Zandvakili has 17 years of teaching, research, and counselling experiences. She is a researcher and teacher at heart who believes in a humanistic approach to education and considers collaboration as the key to learning and understanding. She received her Ph.D. in Teacher Education and Curriculum Studies (TECS) with a concentration in Languages, Literacies and Cultures (LLC) from the University of Massachusetts, Amherst. She is a post-doctoral research fellow working with Professor Edmund Gordon of Teachers College, Columbia University who is one of the preeminent African American scholars in this country.

Her teaching and research interests have been deeply influenced by a respect for the values of diversity and justice. She embodies diversity and the struggle for equity as a woman of color. She has developed a model of critical thinking, the 3CA model that addresses the issues of diversity and justice. This model assumes all students regardless of their backgrounds can achieve mastery of the content of instruction at a high level. Her teaching and research take a new look at mastery learning. In the past mastery learning has been predicated on students having the necessary time to reach high levels of achievement. Her current research and teaching are framed by my interest in using instructional strategies to provide equity in classroom achievement. This interest in equity in achievement is reflected in two papers she recently published. Her current and future research model of language learning is based on the view that students need appropriate skills including: the construction of concept maps, critical thinking, collaboration, and self-assessment. She continues to connect theory and practice as I grow everyday as a teacher and a researcher.
At the present time she is translating her theoretical research into my practice of teaching. The reader will have an overview of her way of turning theory into practice by glancing at an outline of her recently completed book. In that volume she describes the implementation of the EZ model about current cultural events. The activities in the book are a blend of antiquity, modernity, fantasy, and best practices in the teaching of English as a second and foreign language. This book and method are aimed at meeting the dynamic and developmental needs of second language learners in the throes of physical, social, intellectual, and cultural change through music and physical activities. While in the midst of these changes, young people are searching for identity, novelty, excitement, and achievement. The factory method of manufacturing adolescents and their instruction aligned in rows and tied to the curriculum frameworks of their teachers is boring and outmoded. In the post-corvid 21st century students will require a different set of competencies and skills. The EZ model is designed to meet the developmental needs of young people in a changing and dynamic world.


Areas of expertise: Critical Thinking, Concept Map, Collaboration, Assessment, Second/Foreign Language Learning, Corrective Feedback, Emotional Development.