Anna Bakova
Institution: Language Coaching School
Country: Czech Republic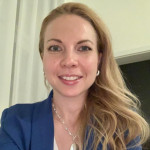 Anna Bakova is the owner of Language Coaching School in Prague focusing on coaching and psychological methods to help language learners remove barriers and achieve their language goals fast and pleasant way.
Anna is also a specialist in mnemonics, rapid memorization, focusing techniques. Project management is another important part of Anna's program for language learners and teachers.

Anna graduated in Philology - Leningrad State University named after A.S. Pushkin, St. Petersburg (Russia) in 2004. She also got MBA in General Management - Czech Management Institute in Prague (Czechia) in 2015.
Before launching her own Language Coaching School, Anna had worked 12 years in international companies at senior positions managing teams and innovation development. Having worked in teams of 50 different nationalities in Nestle company Anna developed her cultural intelligence and coaching skills.
Additionally, she accomplished coaching program of ICF (International Coaching Federation) standards.

Anna speaks 9 languages and is constantly learning new ones.

Areas of expertise: Teachers Professional development, coaching, psychological methods for language learners, rapid memorization, focusing techniques, project management, adult education, engagement in language learning, studies on language learning, ergonomic language practice formats.