Ligia Sarivan
Institution: Institute for Educational Sciences, Bucharest
Address: Stirbei Voda 37
Postal Code: 010102
Country: Romania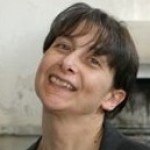 Ligia Sarivan is a senior researcher in the Curriculum Department of the Institute for Educational Sciences, Bucharest.

She graduated in Foreign Languages and Literatures (1985) and obtained a PhD (1998) from the University of Bucharest. She has been involved in many teacher training programs with the aim of implementing innovative methodology.

Ligia Sarivan has been among the first in Romania to promote blended learning teacher training programs. She has recently coordinated several courses: an online course to implement new methodological approaches to the development of key competences as well as a course for teachers who work with students at risk on http://training.ise.ro/ and a blended learning master program on http://platforma.masterprof.ro/

She has been invited in a number of South Eastern European countries to support curriculum development and teacher training.

She has published many articles and chapters in books on a variety of educational topics - multiple intelligences, curriculum development, blended learning, innovative methodology for students at risk.