Tracy Hogan
Institution: Adelphi University
Address: 375 South End Avenue 14E
Postal Code: 10280
Country: United States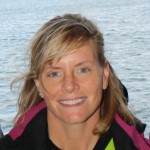 Dr. Hogan is an Associate Professor in Science Education at Adelphi University in New York. She teaches courses in science education, curriculum development and school reform. Currently, she is the Principal Investigator of the Adelphi University Science Education Advancement (SEA)/Robert Noyce Scholarship Program and was PI of a second grant entitled, Project BEST: Bilingual Educators of Science and Technology. Both grants focus on developing effective science teachers to work in high-needs secondary schools.

Dr. Hogan's research interests include teacher development; particularly in ways classroom problems are defined and subsequently solved by the expert and novice teacher and has published on issues related to critical literacy in the science content area, teacher reform, and the development of science literacy.

Additionally, Dr. Hogan devotes much of her professional time to work with teachers in under-represented communities in New York City to improve science teaching and learning through instructional coaching. Prior to earning her Ph.D in Educational Psychology, Dr. Hogan was a middle and high school science teacher. Her undergraduate degree was earned at Iowa State University in Fisheries and Wildlife Biology.