Guillaume Dumazer
Institution: University Of Oslo
Country: Norway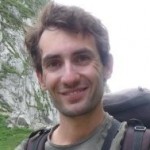 Guillaume Dumazer is physicist, researcher at the University of Oslo.
His field of research ranges from fluid mechanics to statistical mechanics, complex systems, granular material, etc. His early career developed in various European context (Paris, Glasgow, Marseille, Oslo).
He has also been in charge of tutorial courses at University for three years as PhD student. As part of his research duty he is also supervising the training of master degree research projects.

Since the very beginning of his research career he always questioned the bridge between research and education or science dissemination. What could be alternatives to textbooks to teach scientific knowledge?
Science festivals he actively took part in as student seeded his mind with art and science project.

"Et fysikkeventyr fra Nord" was his first attempt to implement, in full-size, a teaching experiment mixing art and science. This project put into application ideas about using a fairytale to actively teach physics.

Areas of expertise: Physics, Physical Modeling, Numerical Simulation and Analysis, Molecular Dynamics, Scientific education.