Nicole Kowrach
Institution: Museum of Science and Industry
Address: 5700 S. Lake Shore Drive
Postal Code: 60637
Country: United States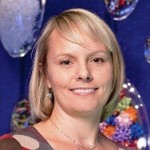 Nicole Kowrach is the ITW Director of Teaching and Learning in the Center for the Advancement of Science Education at the Museum of Science and Industry (MSI) in Chicago, Illinois, USA.

Ms. Kowrach holds a B.S. in Anthropology from Michigan State University, and a M.S. in Anthropology with a certificate in Museum Studies from the University of Wisconsin-Milwaukee. She joined the Museum in 2005, where she leads the MSI's work to support the formal education community, including: the Institute for Quality Science Teaching, providing sustained and comprehensive science teacher coursework; Student Experiences, opportunities for school groups visiting MSI on field trips to participate in hands-on labs and exhibit exploration; and MSI's new Science Leadership Initiative, a mechanism for whole-school science support.

Prior to her work at MSI, Ms. Kowrach was the Director of Education at the Ann Arbor Hands-On Museum, in Ann Arbor, Michigan. In this role she led education programs for students, teachers, families, and communities.

Ms. Kowrach has written, been awarded, and manages federal grants from the National Aeronautics and Space Administration (NASA), the National Oceanic and Atmospheric Administration (NOAA),the Institute for Museums and Library Services (IMLS), the National Institutes of Health (NIH), and the U.S. Department of Education.