Sabina Eftimova
Institution: State University of Library Studies and Information Technologies (SULSIT)nSofia/Bulgaria
Address: 119 Tzarigradsko shosse
Postal Code: 1784
Country: Bulgaria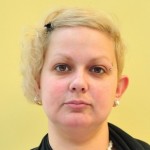 Sabina Eftimova has been working as an assistant professor at the Library Management Department of the State University of Library Studies and Information Technologies (SULSIT). In 2012 she has gained PhD in scientific field "Book Science, Librarianship and Bibliography". Her dissertation's theme is "Bibliotherapy (History, Theory, Practice, Contemporaneity).
Dr. Eftimova lectures the following courses: "National bibliography" and "Information Resources". She has created 2 disciplines – "Bibliotherapy" and "Library Psychology". She is a co-complier in one collection and author of more than 40 articles.
She participates in projects under Ordinance № 9, and project for young scientists funded by NSF: "New policies for stimulating the reading. Research of the bookcrossing practices in Bulgaria". Dr. Eftimova has been involved as project coordinator of the scientific project "Analysis of the common practices in the use of products of intellectual property in university information environment" DMU 03/3 (2012-2014), funded by the National Science Fund of the Ministry of Education and Science.
Eftimova is a member of the Association of university libraries and the Bulgarian Library and Information Association. Sabina Eftimova's research interests and publications are in the reading, bibliotherapy, the psychology and pedagogy of reading.