Tania Todorova
Institution: University of Library Studies and Information Technologies
Address: 119 Tzarigradsko shosse
Postal Code: 1784
Country: Bulgaria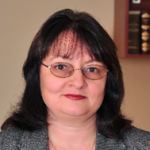 Tania Todorova is a Professor at the University of Library Studies and Information Technologies, (ULSIT), Sofia, Bulgaria. She is a Head of Library Management Department and Deputy Head of UNESCO Interfaculty Chair 'ICT in Library Studies, Education and Cultural Heritage'.
Tania Todorova graduated in Librarianship and Bibliography (B.A.) and Bulgarian Philology (M.A.). She is a Ph.D. in Book Science, Librarianship and Bibliography.
Her research interests are in the field of: Library Management,
Copyright and Libraries; Public Relations; ICT in Library and Information Sciences and Humanity; Digitalization; Project Management etc.
She is an author of 3 monographies (Integration Processes in Library and Information Sphere (2014); Library Policies (2010); The Journal "Bulgarski Knizici" (1858 – 1862) on the verge of a New Epoch (with analytical digital database on CD) (2010); 1 Texbook (Project Management in Library and Information Sector (2014); 7 collections and more than 40 articles.
Tania Todorova is a Member of the Forum UNESCO (FUUH); Informing Science Institute; Union of Scientists in Bulgaria; Association of university libraries, Bulgarian Library and Information Association. She is a member of Programme and Scientific Committees and peer reviewer of many international conferences in the field of library and information science such as New Perspectives in Science Education, ECIL, QQML, IMCW, InSite Conferences, BOBCATSSS etc. Member of the Editorial Board and reviewer for International Journal of Library and Information Science (IJLIS, OAJ, ISSN : 2141-2537) and for Evidence Based Libraries and Information Practices (EBLIP), University of Alberta, Canada.
Tania Todorova has been involved as manager and coordinator in more than 15 national and international projects. She is a Project Manager of the EU-ERASMUS IP Library, Information and Cultural Management – Academic Summer School (IP LibCMASS) (2011-2013) and on the scientific project with international participation "Copyright Policies of libraries and other cultural institutions" (2012-2016), funded by the National Science Fund of the Bulgarian Ministry of Education and Science.
Areas of expertise: Library and Information Management, Copyright and Libraries, Public Relations, Project Management, Library and Information Science Education.