Aline Bruna
Institution: Nexans Norway AS
Address: Schæffers Gate 12C
Postal Code: 0558
Country: Norway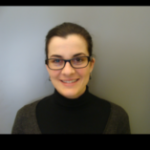 Aline Bruna is currently Project Manager at Nexans Norway. As multidisciplinary project engineer she held various positions in cable manufacturing industry, from sustainable development projects on the group level in France to product manufacturing design for plants, or whole project management in Norway.
She has also been in charge of teaching duty for sustainable development topics at Ecole des Mines de Paris, as well as for internal courses in her company.

This diversity of occupations has proven that educational challenges are not bounded to academic institutions. The industrial and economical world is made of a huge variety of people, in age and background. The task of bringing to different actors accurate conceptual tools has driven Aline along a reflection on pedagogy.

In 2013/2014 she managed the implementation of the project "Et fysikkeventyr fra Nord". This science dissemination project was a great opportunity for her to step outside the traditional career development of engineers in order to explore a motivating professional field.

Areas of expertise: Project management, Project planning, Engineering, Manufacturing, Adult education, Children education.