Francesco Fedele
Institution: Sophia R&I
Address: Viale Pasteur, 78
Postal Code: I-00144
Country: Italy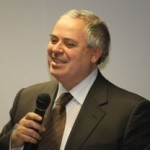 Francesco Fedele is an expert in complex project and people management involving multi-cultural, multi-disciplinary environments and the coordination of distributed teams. He has a thorough knowledge of the EU Institutions, of the main European funding programmes (e.g. FP7/EUROPEAID/LLP and more) and policies. He has more than 20 years practical experience in managing national and EU financed research projects, under a number of different programmes, like ESPRIT, TAP, ACTS EUROPEAID, LLP, TEMPUS programmes and more. He managed established organizations, university units, associations and well as technological start-up companies. He coordinated financial activities in organizations as well as managed marketing and sales efforts in others. He has a multi-year experience in definition and management of advanced R&D projects; extensive work experience in complex multicultural and multilingual environments; organization/planning capabilities; team-building skills, cooperative attitude; excellent communication skills, both oral and written, natural leadership style. In addition to being a Project Manager (with a specific experience on Financed Projects Management), a Management and Marketing Consultant, he has a technical background with experience as IT Architect and IT solution designer. Finally he is a trainer on management, public speaking and leadership skills and a trainer on IT related subjects (particularly internet related technologies).

Personal skills and competences: Policy analisys and assessement in education, training and regional development. Evaluation of complex rand intercultural projects at regional, national, european level acquired n 16 years of projects and initiatives, with the responsaility of evaluation activities. Management of several transnational projects referring research on training, vocational training systems; training the trainers, training needs analysis. Writing and oral ability to communicate about scientific subjects in the field of education and training policies. Events organiser.

Social skills and competencies:
Team work: I have worked in various types of team, physical and virtual, from research teams to production teams, from executives' teams to scuba divers teams.
Mediating skills: I have often worked in the middle ground between technical and marketing/sales areas, as well as with people coming from many different cultural backgrounds.
Teaching skills: I have thought technical and business subjects to very different groups, from students to senior professionals.
Intercultural skills: I am experienced at working in a European/Mediterranean dimension.
Communications skills: acquired thru my experience as a sales manager and marketing manager.

Organisational skills and competencies: Thru management of various projects and of various companies acquired very good skills in team leading (both in real and virtual environments) and company organization. Proficient in process evaluation and restructuring. Organized various conferences, training seminars and participation in tradeshows.

Languages: Italian native speaker, very good English, some knowledge of French, Spanish and basic knowledge of Polish and Serbo-Croatian.