Milena Koleva
Institution: Technical University of Gabrovo
Address: 4, Hadji Dimitar street
Postal Code: 5300
Country: Bulgaria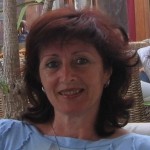 Dr Milena Koleva graduated as Chemical engineer at University of Chemical Technology and Metallurgy – Sofia and holds Master and PhD degree in Polymer Chemistry and Polymer composite materials technology.
Currently she is a Professor in Technical University of Gabrovo (Department of Physics, Chemistry and Ecology) and vice-dean in charge of Scientific Development (Faculty of Economics). She is competent in General Chemistry, Polymer Chemistry and Polymer Material Science, Environmental Chemistry, Waste management, and currently attends Masters programs in Sustainable Development and Environment Protection, and Environmental Engineering.
She has more than 25 years experience in teaching Chemistry, Environmental Chemistry, Waste Management for students attending Bachelor and Masters degree academic courses.
Dr Koleva has been involved in National and European projects under the European Educational Programs TERMPUS (Polymeric material science), LEONARDO DA VINCI (Plastics for injection molding), ERASMUS (Industrial and Household Waste Utilization) etc. She was the contact person and manager of Chemistry is All Around Us Project (167126 – LLP – 1 -2009 – 1 –IT – KA1 – KA1ECETB) and Chemistry is All Around Network Project (518300-LLP-2011-IT-COMENIUS-CNW) for Technical University of Gabrovo.