Lara Albanese
Institution: Associazione GOOGOL
Address: strada Tordenaso 39, Langhirano
Postal Code: 43013
Country: Italy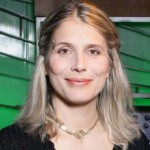 Dr. L. Albanese. Lara Albanese has a background in Physics. She has conducted research in Italy and England before concentrating on science communication through a number of diverse activities: science journalism, exhibition development for science centres, teaching and workshops on science communication, research in science communication, management of science projects, management and animation of science events. She has been involved in many European funded projects.
Since 1999 until 2013 Dr. Albanese was Outreach and Education specialist of Arcetri Observatory (Florence). She is a member of the International Astronomical Union and active in Commission 46: Astronomy Education and Development.
In the past decade she has worked as a freelance consultant and expert in science education both in Italy and abroad.
Lara Albanese is the author of twenty children's science books. In 2013 she won the Italian Andersen award for her ability to combine astronomy, science and storytelling. In 2014 she won the national award "A book for the environment" and since that time decided to devote herself mainly to writing children's books.
Dr. Albanese is course Professor of "Science for All: Education at Science Museums" at the University of Parma and conducts educational research in the field of Scientific Education with particular reference to Astronomy and Mathematics.