Nathalie Pinsard
Institution: ESPE Bourgogne
Address: Bâtiment Gabriel, AILE SUD - 6 Bld Gabriel
Postal Code: 21 000
Country: France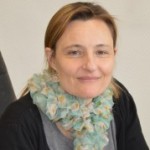 Nathalie Pinsard is a Professor in University of Burgundy and teaches at School Superior for Teaching and Education of Dijon (ESPE).

From 1992 to 1997, she was a gymnasium school teacher.

Since 2012 she works with research group of Scientific communication and information (ICS) directed by Emmanuella Di Scala at ESPE Dijon and Laboratory CIMEOS.

Her topics interests are didactical of sciences, representations, healthy, scientific culture. She works specially on students and pupils public by action research.