Ingibjorg B. Frimannsdottir
Institution: University of Iceland
Address: Aðallandi 19
Postal Code: 108
Country: Iceland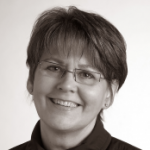 Ingibjörg B. Frimannsdottir is an Assistant Professor in the School of Education at the University of Iceland.
She graduated with a Master degree in Applied Linguistics from the University of Iceland in 2001. Since then she has been teaching in the department of Teaching; phonetic, mother tong studies, academic writing, spoken language and elocution.
Ingibjörg has specialized in distance education, specifically how to combine on-site and distance teaching. Her current research interest is how Flipped teaching works in higher education.
In addition Ingibjörg has guided television and radio personnel, teachers, attorneys, politicians, and others with elocution and presentation for more than 15 years.
Ingibjörg is also a member of the Icelandic Reading Association and has co-edited two booklets about the importance of reading for children and a book about Spoken language.