Sana Al-azzawi Al-azzawi
Institution: Luleå University of Technology, Dept. of Computer Science, Electrical and Space Engineering, eislab, srt
Country: Sweden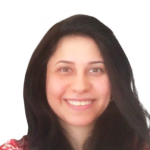 Sana is a PhD student in Machine learning has more than 11 years of teaching experience as a lecturer at different universities in the field of computer engineering and Artificial Intelligence. She is currently pursuing her PhD study at Luleå university of technology.
Throughout her career, she taught 12 subjects in computer engineering and Artificial intelligence, two MOOCs with Futurelearn. She has an official trainer certificate (ToT) and she gave more than 10 small training courses for the employees. She played an important role during the beginning of the pandemic through her YouTube channel to encourage her students at the university of information technology and communications (UOITC) to start electronic learning.
She published 15 research papers and her research interest is Machine Learning, Deep Learning, NLP, Control theory.