Marivilla Lydia Bulan Aggarao
Institution: IKI-SEA-Bangkok University
Country: Philippines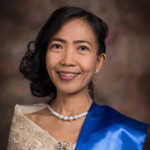 Presenter: Marivilla Lydia Bulan Aggarao
Institution: Philippine Normal University
Address: Taft Avenue, Manila
Postal Code: 1000
Country: Philippines
Mobile No: +369062372834
Fax: 02317-1768 loc 762
Email:
[email protected]
Web: N/A
Marivilla Lydia Bulan Aggarao, LPT, RGC, RPm, currently is an Associate Professor at the School for Information and Knowledge Management (SIKM) and serves as the extension coordinator of the said department. Moreover, she is an adjunct faculty of the Behavioral and Social Sciences (FBeSS) and the Faculty of Education Sciences (FES) at the Philippine Normal University-the National Center for Teacher Education. In addition, she is a guest lecturer at the Don Bosco Educational Foundation and Philosophical Institute of St. Francis Sales, Timor Leste.
Fascinated by behavioral sciences, she took up a Bachelor of Arts in Psychology (AB Psychology) at Philippine Normal University, Manila main campus. She was a youth ministry leader, dean's lister, and one of the most fortunate and well-deserved recipients of the Edgardo Angara scholarship. Furthermore, she pursued her masterate and graduated with the best thesis in Master of Education with a specialization in Guidance and Counseling in the same institution, the Philippine Normal University, in 2002.
Because of her stint in the world of work as a Registered Guidance Counselor (RGC), Registered Psychometrician (RPm), and Licensed Professional Teacher (LPT), she has various speaking engagements as a facilitator-demonstration teacher, as a trainer of trainers (ToT) and as a resource speaker. Her most loved areas include Enhancing Teacher's Pedagogical Content Knowledge in Specialized Courses in the Academic Track of the SHS Curriculum, Integrating Contextualization in Subject Areas, Harmonizing K-12 Pedagogies, Whole Child Approach, and 21st Century Skills, Philippine Professional Standards for Teachers (PPST) Elaboration, Critical Contents in Values Education and Social Science and Whole School Approach to Global Citizenship Education (GCED).
Apart from the commitments mentioned above, she has invitations to talk about Handling Children with Special Needs, Stress Management, Innovative Strategies in Dealing with Behavioral Maladies of Young Adults, Systematic Training for Effective Parenting, Teaching Skills, Handling Conflicts, Psychological Disturbances, Leadership Skills, Values Formation, Managing the Learning Environment, Global Citizenship, Climate Change, Women Empowerment, and Knowledge and Innovation.
In addition, she is a module writer on Sustainable Development Goals (SDG 9 and 13), National Service Training Program (NSTP), e-training module for DepEd-DOST-PNU Training Program for Beginning Teachers, facilitator and researcher on the program "Sa 'Pinas, Ikaw ang Ma'am at Sir' (SPIMS), of the National Reintegration Center for OFWs (NRCO). Furthermore, she had a special participation in crafting and formulating the NCBTS, which turned into D-NCBTS and, finally, the Philippine Professional Standards for Teachers (PPST). Her recent engagement was on Programme for International Student Assessment (PISA) as a PISA-like item writer, writer and validator of BLEPT review materials, and a higher-education textbook writer.
She has received research grants from the Commission on Higher Education (CHED) and institutional level and has presented papers in national and international fora.
Her civic activities are as follows: Campus Ministry Volunteer, PNU Chapter, Lector-Commentator, St. Vincent De Paul Parish, Manila, and Volunteers of Don Bosco, Manila Chapter. In addition, she helps champion the green environment through the Green Convergence platforms, increasing literacy rate through the Lions Club activities, bringing light to teachers through the PATEF-UPDATE programs, empowering women through Gender and Women discourses and sustainable development and conflict resolution, and mitigating climate change through the Global Citizenship Education (GCED) advocacies. As an allegiance to her advocacy in GCED, the Asia-Pacific Conference on Education and International Understanding (APCEIU) sponsored her ten-day training workshop during the 19th Asia-Pacific Training Workshop on Education for International Understanding (EIU) held in Seoul and Inje, the Republic of Korea from 20-28 June 2019.
She finished her course work in a Doctor of Philosophy major in Educational Management at the Philippine Normal University. Then, however, realizing the leap of the century through knowledge utilization and digital citizenship, she boldly shifted her academic track and embraced the field of Knowledge and Innovation Management. Fortunately, she is the first Filipino scholar to finish a Doctor of Philosophy in Knowledge and Innovation Management, and her dissertation was marked with distinction at Bangkok University, Bangkok, Thailand of this year.
To further hone her expertise in Innovation and Knowledge Management, she completed ten (10) weeks of online training on Knowledge Management theory, practiced thirty (30) essential Knowledge Management skills, and completed an eight-week workplace Knowledge Management practicum under the Community and Corporate Learning for Innovation, Inc. Moreover, she completed the training on Managing knowledge for organizational effectiveness organized by the Institute for Knowledge & Innovation South-East Asia, Bangkok University, in partnership with the World Bank Group in Bangkok, Thailand.
She is an accomplished woman and an academician from a family of educators who believe in education as a tool to eradicate poverty and champion the nation's future. She is the co-founder, vice-president, and consultant of St. Thomas School of Cay, Pombo, Sta. Maria, Bulacan.
Areas of expertise: Guidance and Counselling, Special Education, Human Development, Learning Theories and Teaching Strategies and Global Citizenship, Gender and Women and Feminist Counseling, Educational Leadership, and Knowledge and Innovation Management. Her research interests are pedagogy, Behaviorism, Values Education, Innovation, Global Citizenship, and Gender.