Martin Musumeci
Institution: University of Malta
Country: Malta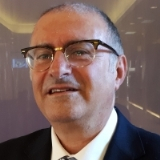 Martin Musumeci graduated B.Ed.(Hons) (main subject Chemistry, University of Malta, 1981) and started teaching, mainly Physics and General Science, in State Secondary Schools.

In 1983 he followed a post-graduate course in Chemistry Research Techniques at the University of New South Wales, Australia.

He started teaching Advanced (A) level Chemistry, and the 'Man and Science' component in Systems of Knowledge, in 1986. During this period, he completed a B.Sc. degree (main subjects Chemistry and Physics, University of Malta).

He proceeded to the University of Padova, Italy in 1991 to read for a Doctorate in Chemistry. Based on the doctoral research, Musumeci co-authored (with S. Antonello, D.D.M. Wayner and F. Maran) 'Electroreduction of Dialkyl Peroxides. Activation−Driving Force Relationships and Bond Dissociation Free Energies', in the Journal of the American Chemical Society (1997).

On returning from Padova in 1995, Musumeci resumed lecturing A Level Chemistry and in 1999 took the post of Principal Subject Area Officer (Sciences) at the MATSEC (Matriculation and Secondary Education Certificate) Support Unit, University of Malta.

Between 2000 and 2002, he was seconded to the Diagnostic Science Laboratories (DSL) of the (then) Malta Centre for Restoration (MCR) as Assistant Director for DSL (to set the labs from scratch) and coordinator for science-related courses of the Institute of Conservation and Restoration Studies (ICRS) within MCR, and as lecturer of chemistry-related study units. He was involved in the preparatory stages of new Conservation courses, namely the preparation of programmes of study, the course unit descriptions, the assessment criteria, etc. and as participant in conservation project work teams. He acted as member of the B.Cons.(Hons) Board of Studies from 2000 to 2009.

Musumeci graduated Masters in Business Administration (University of Malta, 2001) and returned to the MATSEC Support Unit as Principal Subject Area Officer (Commercial and other Subjects) in 2002, was appointed Lecturer within the Department of Mathematics, Science and Technical Education (DMSTE), Faculty of Education in 2003, and continued as visiting Lecturer within the ICRS and was appointed, as from 2005, visiting Lecturer in diploma and degree courses at the Institute of Healthcare.

In 2008, Musumeci was appointed Executive Director MATSEC.

He was promoted to Senior Lecturer in January 2009.

Since 2012, Musumeci is a full-time academic member of staff within the Department of Mathematics and Science Education (DMSE), Faculty of Education, University of Malta, where he is involved in lecturing, tutoring and supervisory duties in the M.Ed. (Science Education), the Masters in Teaching and Learning and the B.Sc.(Science for Education and Communication) degree programmes. He occupies the post of Head of the Department of Mathematics and Science Education as of October 2020.

Musumeci participated in a number of EU-funded projects: The Implementation of a European Dimension by Peer Learning in Primary School (E-PLIPS) [2006-2009]; Intensive programmes as Towards Fascinating Physics and Chemistry [2007: Nicolaus Copernicus University, Torun, Poland], AIDA (Attention-Interest-Desire-Action in Science) [2006: Universidade do Algarve, Faro, Portugal; 2005: University of Jan Evangelista Purkyně, Usti nad Labem, Czech Republic]; and EduChange [2018-2020, Erasmus+].

Musumeci is a Chartered Chemist and Member of the Royal Society of Chemistry, and a Fellow of the Chartered Institute of Educational Assessors (UK). He authored a number of academic publications and presentations in international conferences and is also co-author of 'Through the Eyes of Children – The Implementation of a European dimension by Peer Learning in Primary School' (Mensch und Buch Verlag, Berlin, 2010; ISBN: 978-3-86664-753-4) and co-editor of 'Frank Ventura: Reaching for the Stars with a Passion for Science and Edication' (Faculty of Education, University of Malta, 2018; ISBN: 978-99957-1-302-7).
Area/s of Expertise: Chemistry Education, Science Education, Initial Teacher Education, Curriculum Development, Educational Assessment, Attitudes towards Science and Subject Choice, Science and Religion.