Tereza Trencheva
Institution: State University of Library Studies and Information Technologies (SULSIT)
Country: Bulgaria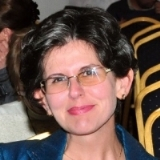 Tereza Trencheva has been working as Assistant Professor of Library Management Department of the State University of Library Studies and Information Technologies (SULSIT) since 2009. She graduated in Library and Information Sciences from the Sofia University "St. Kliment Ohridski" in 2002. Dr. Trencheva has obtained her PhD degree in Theory of Scientific Information in 2011 from Centre for Scientific Research and Training for PHD students at the State University of Library Studies and Information Technologies (SULSIT).

Her Dissertation's theme's: "Intellectual Property of Information Resources in Internet". She has been on a specialization at the World Intellectual Property Organization in Geneva, Switzerland. For the last 10 years, she has constantly been working in the field of Intellectual Property Issues. She creates 5 different disciplines – "Information resources", "Intellectual property", "Intellectual Property in Internet", "Social networks and Internet", "Law, Media and Advertisement". Tereza Trencheva is an author of the monograph "Open Access to Scientific Information" (2013), two collections and more than 50 articles.

Dr. Trencheva has been involved as project planner and coordinator in more than 10 national and international projects. At the moment she is a project manager of the scientific project "Analysis of the Common Practices in the Use of Products of Intellectual Property in University Information Environment", funded by the National Science Fund of the Ministry of Education and Science in the competition "Young Scientists". She has developed and coordinated partnerships with more national and international institutions related with intellectual property rights. Tereza is the founder and the main trainer in the national seminar dedicated to the World Intellectual Property Day (26 April) which is organized and coordinated by SULSIT.

Tereza Trencheva is a Member of Informing Science Institute (USA); Bulgarian Association of Intellectual Property Teachers, Union of Scientists in Bulgaria; Association of University Libraries. She is a peer reviewer of many international conferences in the field informing science such as InSite and e-Society Conferences.

Tereza Trencheva is often invited as a speaker or expert at International Conferences to present her Intellectual Property and Copyright experiences and the European and national projects in which she is involved.
Area/s of Expertise: Intellectual Property Training, Project Management and Evaluation, Science Education, e-Learning, Language Learning.