Nikolaos Fotou
Institution: University of Lincoln
Country: United Kingdom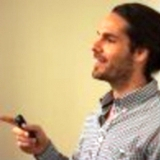 Dr Nikolaos Fotou is a senior lecturer and programme leader of the MA programme in Lincoln University, UK. Before joining Lincoln University, he was a science education lecturer at Maynooth University, Ireland. He has studied Physics at the University of Crete in Greece and obtained his MA degree in science education at the University of Leeds, UK. He started his PhD at the University of York and after successfully completing two years he was transferred back to the University of Leeds where he received his PhD, in the area of students' ideas, reasoning and self-generation of analogies. He has taught at most levels of education, from primary, secondary and tertiary education in Greece to undergraduate and postgraduate programmes in the UK and Ireland.

He is particularly keen to foster a more evidence-based, as opposed to opinion-based, approach to educational initiatives and interventions and his research bridges a number of different fields in education. He has worked on a range of projects and educational initiatives at different institutions across the UK and Ireland. In 2016, for example, he worked in the Science and Technology Education Group, University of Lincoln on a project aiming at improving students' achievement in, and attitudes towards science and on a small scale study exploring the achievement and understanding of primary education children with SEND. Within the same year he worked in a British, non-ministerial government department providing physics subject and assessment expertise to produce a functioning assessment of practical skills in science. In 2015 he worked as an editorial assistant for the Tools and Mathematics book which is an exploration of issues in mathematics education related to tools and how such tools can be used as instruments for learning. In 2014 he worked as a researcher on project looking at the use of ICT in mathematics classrooms. During 2012-2014 he was involved, as a research assistant, in different phases of the Wellcome Trust funded CPD project for primary science specialists.

Nikolaos Fotou is a member of the European Science Education Research Association (ESERA) and Hellenic Physical Society (E.E.F). He is also involved as an external member of the Ofsted offering expertise in the design and development of practical skills measures.

Some of his most recent publications include:

Sharpe, R., Abrahams, I., & Fotou. N. (2018). Does paired mentoring work? School Science Review, 369(99), 39-45.

Abrahams, I., Constantinou, M., Fotou, N., & Potterton, B. (2017). The relevance of science in a 'black box' technological world. School Science Review, 365(98), 85-90.

Clay, S., Fotou, N., & Monaghan, J. (2017). The use of software in academic stream high school mathematics teaching. The International Journal for Technology in Mathematics Education, 24(1), 37-47.

Fotou, N., & Abrahams, I. (2016). Students' analogical reasoning in novel situations: theory-like misconceptions or p-prims? Physics Education, 51(4), 1-13.

Fotou, N., & Abrahams, I. (2015). Doing with ideas: the role of talk in effective practical work in science. School Science Review, 359(97), 55-60.

Sharpe, R., Abrahams, I., & Fotou, N. (2017). Does paired mentoring work? A study of the effectiveness and affective value of academically asymmetrical peer mentoring in supporting disadvantaged students in school science. Research in Science & Technological Education, 1-21.
Area/s of Expertise: Nature of Students' Knowledge, Misconceptions, Analogical Reasoning, Self-Generation of Analogies, Use of ICT in Science and Mathematics Classrooms, Role and Effectiveness of Practical Work in Secondary and Tertiary Science Education, Research in Initial Teacher Education, Peer-Mentoring, Special Education Needs in Science Education.